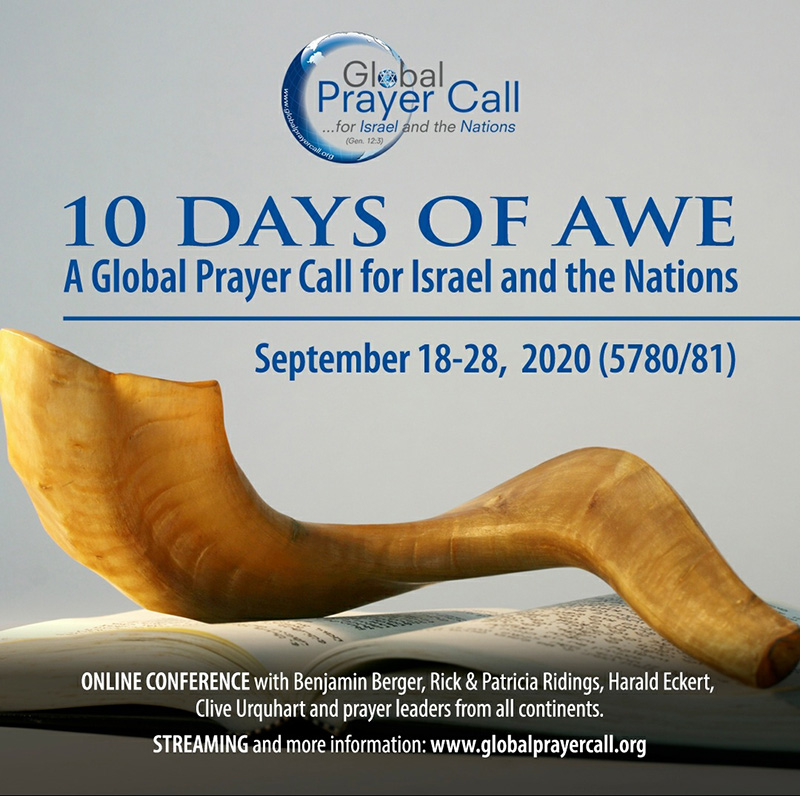 A heartfelt invitation to the 10 Days of Awe Conference by Global Prayer Call – for all who want to bless Israel from their nation and pray that their own country will be a blessing to Israel! The conference starts on Rosh Hashana.
There will be many Messianic and international prayer leaders e.g. Benjamin Berger, Sandra Teplinsky, Rick and Patricia Ridings, Harald Eckert, and Clive Urquhart.
The conference starts with an introductory session on Saturday, September 19 from 4.00 – 6.00 pm (Israel Time) and a concluding session on Yom Kippur, on Monday, September 28 from 11.00 am – 2.00 pm (Israel Time). Both main sessions will be live-streamed on our GPC website. (Translation into German and French will be provided for the two main sessions).
During the 10 Days of Awe, in between Rosh HaShana and Yom Kippur, prayer leaders from all continents will intercede for their nations and pray for Israel. Join us as we bless Israel so that the Lord may inspire and encourage us to pray for Israel and our own nations as well as other countries! We look forward to seeing you there!
More information on
http://globalprayercall.org/en/events/2020-days-of-awe#about-the-event